July 2012 Newsletter-Phyllis Wolborsky & the Wolborsky Group-Raleigh, NC & The Surrounding Triangle Area
Monday, July 09, 2012
by Phyllis Wolborsky & The Wolborsky Group
Existing Home Sales Up Nationally
Low inventory levels have contributed to a recent rise in existing-home prices, according to a June report by the National Association of Realtors (NAR). Existing-home sales, which include recently purchased single family, townhomes, condominiums, and co-ops, are on pace to reach 4.55 million units sold for 2011, an increase of 9.6 percent compared to May 2011.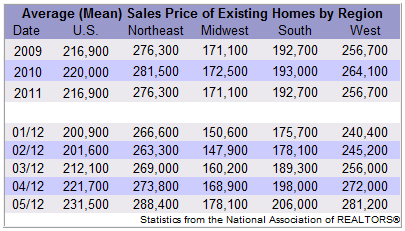 Lawrence Yun, NAR chief economist, says that shrinking inventory has actualy slowed unit sales. "The slight pullback in monthly home sales is more likely due to supply constraints rather than softening demand. The normal seasonal upturn in inventory did not occur this spring," he said. "Even with the monthly decline, home sales have moved markedly higher with 11 consecutive months of gains over the same month a year earlier."
Freddie Mac reports that the national commitment rate for a 30-year fixed-rate mortgage was at 3.8 percent in May, down slightly from 3.91 percent in April. Mortgage rates remain well below the 4.64 percent commitment rate available in May 2011.
Sellers: Get Your Home Ready To Sell!
When preparing your home for sale, a number of simple cosmetic changes often provide the biggest return on investment. Here are three tips to upgrade your house without breaking the bank:
Bring in the light . The right light creates the right mood. Adding lights to dark rooms can make your home feel warm and inviting. Bring outdoor light inside by opening curtains and installing economical suntubes.

Create Space. Many of today's buyers are looking for open rooms. Consider removing unwanted walls to make your home feel more spacious. Buyers will often pay a premium to get a bit of extra room.

Replace Flooring. Get rid of that old carpet in the den and replace it with today's newer hardwoods and laminates. You don't have to spend a lot to make a big impression!

These simple tips can help you sell your home and take advantage of today's market. Please contact us if you have any questions about selling your home. We are here to help!
Looking for the Best Mortgage
Shopping around for a home loan or mortgage will help you to get the best financing deal. A mortgage — whether it's a home purchase, a refinancing, or a home equity loan — is a product, just like a car, so the price and terms may be negotiable. You'll want to compare all the costs involved in obtaining a mortgage. Shopping, comparing, and negotiating may save you thousands of dollars.
The US Department of Housing and Urban Development offers a free brochure to help guide you through this process. Download a free copy today. If you need a lender please contact Cindy Wall with Allen Tate Mortgage. Phone: 919-582-0160. Email: cindy.wall@allentate.com .