Existing Home Sales Continue Rise-Phyllis Wolborsky & The Wolborsky Group-Raleigh, NC & the Surrounding Triangle Area
Tuesday, June 12, 2012
by Newsletter from my website.
Existing Home Sales Continue Rise
Another month brought another rise in existing home sales across the country, according to a recent report by the National Association of Realtors (NAR). Existing-home sales, which include recently purchased single family, townhomes, condominiums, and co-ops, are up 10 percent compared to April 2011, and are on pace to hit 4.62 million units nationally.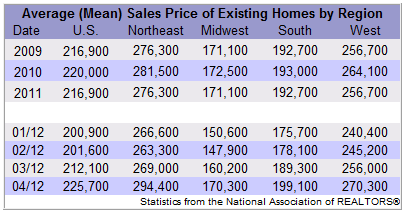 "It is no longer just the investors who are taking advantage of high affordability conditions. A return of normal home buying for occupancy is helping home sales across all price points, and now the recovery appears to be extending to home prices," said Lawrence Yun, NAR chief economist. "The general downtrend in both listed and shadow inventory has shifted from a buyers' market to one that is much more balanced, but in some areas it has become a seller's market."
Freddie Mac reports that the national commitment rate for a 30-year fixed-rate mortgage was at 3.91 percent in April, down slightly from 3.95 percent in March. Mortgage rates remain well below the 4.84 percent commitment rate ovailable in April 2011.
Realtor President Encourages Loan Pre-Approval
Stable home prices and low interest rates are creating competition among buyers in many areas of the country. When looking for a home in today's fast-paced market it's more important than ever to have your financial house in order before making an offer, especially when there may be multiple offers.
NAR President Moe Veissi explains that buyer should look into financing early in their home search process. "With the tight lending environment it's a good idea to consult with a Realtor® about mortgages and program options in your area, and tips for boosting your credit score well in advance of making an offer on a home," he said. "It helps to go into the process knowing what it takes to succeed."
Summer Selling Opportunity
Sellers, you have an excellent opportunity to sell your home this season if you have the right pricing strategy in place from the start! Studies show that the longer a property stays on the market, the less the seller will net upon the sale. It is very important to price your property at a competitive market value at the signing of your listing contract. The market is so competitive that even over-pricing by a few thousand dollars could mean that your house will not sell.
An Overpriced Home:
· Minimizes offers
· Lowers agents response
· Limits qualified buyers
· Lowers showings
· Lowers prospects
· Limits financing
· Wastes advertising dollars
· Nets less for the seller
When you are ready, contact Phyllis Wolborsky & the Wolborsky Group for a personal market value analysis of your home. No hassles or obligation - just honest advice on how to get top dollar for your home!
View some of Phyllis Wolborsky and The Wolborsky Groups Listings and let us know if we might schedule a showing.
http://www.phyllisdiditagain.com/Properties
If you are in the market to buy or sale real estate please visit my website at www.PhyllisDidItAgain.com or www.AllenTate.com/PhyllisWolborsky to view all of my featured listing and the listings offered by our MLS service. Call Phyllis Wolborsky at 919-876-2372, Visit Brian Wolborsky at www.Raleighhomeguide.com, or call 919-427-9508, call Mitchell Wolborsky at 919-270-1049, Kevin Wolborsky at 919-608-2000. Also Randy Scherr at 919-272-0191.
Have a great day and it would be our pleasure to assist you with all of your real estate needs.