Wednesday, May 09, 2012
by Phyllis Wolborsky & The Wolborsky Group
Inventory Down, Prices Stabilize
A decrease in home inventory has brought added stability to home prices across the country, according to a recent report by the National Association of Realtors (NAR). Total housing inventory declined 1.3 percent in March to 2.37 million existing homes for sale, representing a 6.3 month supply at today's current sales pace.
Existing-home sales, which include recently purchased single family, townhomes, condominiums, and co-ops, are up over 5 percent compared to March 2011, and are on pace to hit 4.48 million units nationally.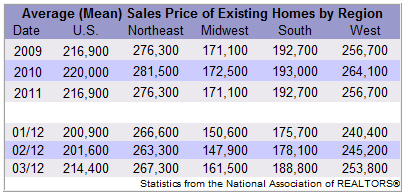 "The recovery is happening though not at a breakout pace, but we have seen nine consecutive months of year-over-year sales increases," said Lawrence Yun, NAR chief economist. "Existing-home sales are moving up and down in a fairly narrow range that is well above the level of activity during the first half of last year. With job growth, low interest rates, bargain home prices and an improving economy, the pent-up demand is coming to market and we expect housing to be notably better this year."
Freddie Mac reports that the national commitment rate for a 30-year fixed-rate mortgage was at 3.95 percent in March, up slightly from 3.89 percent in February. Mortgage rates remain well below the rate of 4.84 percent that was available in March 2011.
Renting Vs. Buying
With low mortgage rates and strong housing inventory, renters have a lucrative incentive to look into home ownership. In many instances, today's historically low interest rates can create a financial advantage for buying over renting. Factoring in tax savings and long term appreciation, home ownership can make a significantly positive impact for the right buyer, without the negative impact of a large mortgage payment.
NAR President Moe Veissi explains that buyer optimism is on the rise. "Our members are reporting an increase in foot traffic from a year ago, but more importantly, home shoppers this year are much more serious about finding the right home and making an offer" he said. "Stabilizing home prices and historically favorable affordability conditions are giving buyers more confidence, and Realtors® have become more optimistic since the beginning of the year from the positive shift in buyer patterns."
Five Tips To Enhance Curb Appeal
It's important for sellers to do what they can to get their home to stand out. Here are some quick tips to generate some excitement for your home in today's market.
Use Paint: A new coat of paint can go a long way to making your home look up to date. Neutral colors work best because they appeal to the most number of people.
Mow the Lawn: Take the time to mow the lawn and clean the yard. Rake leaves and grass and put away any tools that may be lying around. Don't turn buyers off with a messy yard. If they like what they see on the outside, you'll improve your chances of getting them to look inside.
Plant Flowers: Seasonal or perennials can bring a splash of color to your home and brighten the view from the street. Flowers throughout the house will please the senses and make it feel like a home.
Spruce Up Your Walkway: Dressing up your walkway with bricks or paving stones will lead people to your front door. Inexpensive solar lighting can further enhance your entry.
Window Treatments: Keep your home from looking plain or boring with some decorative shutters. Windows are so important to the overall appeal of your home. Take some time to add planter boxes underneath and you'll see an immediate improvement that doesn't cost a lot of money!
By following these tips, you will be able to capture the hearts and minds of today's buyers, as well as improve your chances for a quick sale at top dollar!
When you are ready, contact me today for a personal market value analysis of your home. No hassles or obligation - just honest advice on how to get top dollar for your home!